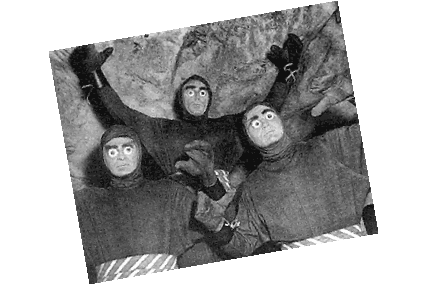 Season 12
Published in Dec, 2004
After watching or reading about one MSTworthy film after another. I decided it was time to add one more mythic season to the mix (In fact, I'm going to make this an annual event). Can anything top my Season 11 choices? I'm not sure, but I think I've discovered treasures not meant for human consumption. Including lots of John Agar, some Richard Cuhna and a few movies with the word "Monster" in their titles.
Read on... if you dare!
1201: Devil Girl From Mars (1957 B&W)
Mars needs men, and they've sent a long cool woman in a black leather skirt to Scotland to get 'em! This British melodrama is basically just an episode of the "Guiding Light" with a space babe and a killer robot. The nasal Martian spends a lot time bursting dramatically into scenes ("No one expects the Spanish Inquisition!") and the robot is laughable. It resembles a giant drive-in speaker. Dry, very dry, but they've done dry English thrillers as well as soap opera's in the past with success.
1202: Gamera Vs. Viras (1968 Color)
This is the one Gamera flick from the original run that's missing from season 3. Isn't it about time the Brains cover this thing. Come on, just get it over with. It has Boy Scouts and aliens prepped for surgery, It'll be fun.
1203: The Brainiac (1962 B&W)
K. Gordon Murray (Santa Claus, Samson vs the Vampire Women) Brings forth another Mexican classic. This one's about a Baron's curse and a comet that strikes the earth and releases a creature with a big hairy head. The monster can turn invisible and uses his fork tongue to suck out the brains of his victims -and like "Santa Claus" & "Samson"- would inspire gales of laughter.
1204: Samurai D.A. (1979 Color)
With Short: "One Got Fat"
This failed TV pilot starred Joe Penny as a half-Asian, half-Caucasian district attorney by day and sword-wielding Samurai warrior by night. Gawd, doesn't it just cry out for a MSTing?
The short involves children in freaky monkey masks who are bike riding to a picnic. On route, each meets with a terrible accident, save one. Who makes it safely to the park whereby he scarfs down all his monkey friends lunches. Too weird to be believed.
1205: The Hideous Sun Demon (1959 B&W)
This films basic lesson: Don't mix whiskey and science! And soon we learn why; as an accident with radiation turns Gil (a drunken scientist) into a monster whenever he's out in the sun. In the movies first 15 minutes we are treated to many scenes of people explaining things. We also get to watch them read magazines and show slides of mutant insects (Including a fly with Don Kings hair) Ooo - Chilling! The creature -who always seems to have soiled the back of his pants- is just one of many cheesy things about this movie. Check out the acting (Gil's hissy fit is a hoot) and dialog (When a character asks... "How long was he exposed!" the wheels in my head couldn't stop turning at the riff possibilities). But my favorite moment is the newspaper headline that reads -"Weird Killer Still At Large!" Yup, it's that kind of movie. lol
1206: Journey To The Seventh Planet (1962 Color)
A United nations crew joins John Agar (who plays a leering sexist pig) on an exploration of Uranus. Once there they battle a giant brain who uses their memories against them.
This colorful film is marred by cheesy special effects and bad stock footage splices (The spider fight is a terrifically terrible example of this). Lowlights include: the Irish guy resting his head in Agar's area (GAAH!!), a laughable theme song, and a dream girl who reassures a nervous astronaut; telling him, "You still have your protection"... Wacka-chika-WOW!
1207: Viva Knievel! (1977 Color)
The famed 70's motorcycle stuntman rides around on his bike doing good deeds. Such as, healing crippled children through the power of his Evel Knievel action figures! It's a major motion picture that reeks like a made for TV movie.
1208: She Demons (1958 B&W)
The great Richard Cuhna was having some fun with this one, but that doesn't preclude the BBI from adding some fun of their own. Irish McCalla stars as a spoiled rich girl who is stranded on a desert Isle with 3 other men. One, a scrawny guy who has a soul patch on his chest (keep the shirt on dude!) is suppose to be our hero and love interest for McCalla (poor girl). The group soon discovers the island is full of Nazi's, one who is conducting experiments that turn beauties into beasts. Saying this is a "goof" doesn't excuse it for its slights. McCalla's wooden delivery of some pretty ridiculous lines are jaw dropping funny and the makeup is so cheesy it's delicious. "Demons" is a blast and M&TB would have made it a scream.
1209: Cosmos: War of the Planets (1977 Color)
After the success of "Star Wars"; Italians rushed to release cheap knock offs. Sporting titles like the "Humanoid" (With Richard Kiel) and "Star Crash" (Which the guys at "Mystery Fandom" covered), these flicks were short on thrills but harbored a wealth of unintended laughs.
"Cosmos" follows a hot headed Captain and his red skullcap wearing crew; as they dodge meteors, battle enemy space craft and end up on a planet of cave dwellers who worship a lame looking computer. Loaded with cheap SFX, "Cosmos" is a marvel of pedestrian film-making.
1210: Monster From Green Hell (1958 B&W)
With Short: "Winky The Watchman"
This is a movie about some folks who take a long, loooong walk in Africa. Oh, and there's some radioactive giant wasps that kill people. It's like "Lost Continent" but with lots of walking; and instead of the Joker from "Batman", it stars Jock Ewing from "Dallas".
The short is about a Dentist who tells a story (via a cartoon) about a violent battle between good and evil. Cartoon "Bad-Uns" as they are called, are shown being gun down and hacked with swords. Boy, tuck that imagery in with the sound of drilling and the kids will need plenty of happy gas to get through this visit!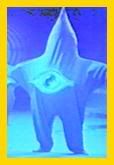 1211: Warning From Space (1956 Color)
None of the recent spate of Hollywood comedies offer the big laughs that the Starfish aliens in this film do (Dodgeball? Blah! Anchorman? Pshaw! Adam Sandler? He only wishes he was this funny!). When one of the female beings waddles forth then teeters unbalanced, I about lost my cookies from howling so hard. Oh that the rest of the movie lived up to these creatures. But sadly, it's a bore. Loaded with snore inducing moments -Like a scientist looking through a telescope for long stretches of time. "WFS" is a Japanese production about aliens who come to warn us about a planet that's about to crash into Earth (which inspires an evacuation of Tokyo. Because you know, if a planet ever does hit Earth, Tokyo's the only city that will be effected...      Hu?). I'd tighten it up by editing out a bunch of nothing scenes, then let 'em riff it to shreds!
1212: The Crater Lake Monster (1977 Color)
This abysmal turd tells the disjointed tale of an ancient dinosaur that emerges after a meteor strikes a lake. While the stop motion supervision by Dave Allen is decent enough (he's the same guy who did the aliens in "Laserblast") the rest of the monster FX are grade Z wretched. The story contradictions -Including that bad movie staple: Folks admiring a star filled night sky...  During the day!- a horrid score and all around junky production levels make this a chore to sit through. In fact, without the SOL crew along as guides, I'd speculate that this movie could be a health hazard.
1213: Neutron vs. The Death Robots (1962 B&W)
With Short: Safety: Harm Hides at Home
Since most of the El Santo's films have not been dubbed into English, let's turn our attention to Neutron; another Mexican wrestling superhero. The masked muscle man battles a mad doctors legion of killer robots. The Neutron films are such silly fun that it's a shame the Best Brains never covered one.
The short is the very strange story of a gal who -at the sound of danger- becomes the super hero GUARDIANA!! Whenever a kid does something dumb; like cook a burger until it bursts into flame, Guardiana is there with her headband and shield (a garbage can lid) to save the day. Freaky man!
1214: Killers From Space (1954 B&W)
With Short: "Soapy the Germ Fighter"
Plane crash survivor, Doc Martin (Peter Graves), finds himself haunted by a pair of floating eye balls! What does it all mean? It means that Pete's being used by bubble eyed alien invaders; who plan to conquer Earth by increasing the size of our bugs and having them eat us? (Oh how Bert I Gordanesque) Directed by W. Lee Wilder (Billy's less talented brother) "Killers" is a mess - With an intrusive sappy score, poor edits and sound. Plus the stupid, stupid ending rattles the brain (Hey folks, let's look out the window and enjoy the atomic explosion, without any fear of personal harm befalling us)
The short is about a filthy little boy, who is visited by a giant cake of soap in a puffy shirt. Soapy (our Germ Fighter) convinces the boy to take a bath with him... Kinky!
1215: High School Confidential! (1958 B&W)
Slang heavy exposé on "weed head" teens. baby faced Russ Tamblyn is so obviously an undercover cop. Watching him trying to play cool is laugh out loud funny. It has Mamie Van Doren and Michael Landon in the cast as well as Jackie Coogan as the drug kingpin. Confidential makes a great bookend with "Girls Town", dig!
1216: Wild Guitar (1962 B&W)
Ray Dennis Steckler directing Arch Hall Jr. My God, the pain, the pain! Mary Jo mentioned this in the ACEG as one that had been considered and I'd have rather seen this riffed on than "Strange Creatures". Putty faced Jr. plays a hick rocker who's ripped off by his smooth talking manager (played by his real life dad, also the screenwriter). Steckler plays "Steak", a guy who only eats -you guessed it- Steak! The acting, script, directing and the stabs at humor are so amateur hour, so wince inducing corny it's funny. Also, we learn the origins of "Vickie" from the movie "Eegah" (and Eeg's relatives visit as well).
1217: Werewolf in a Girls Dormitory (1961 B&W)
Arguably the best title in the history of film. This talky Italian fright flick, is basically a whodunit set in a reform school. There's not much werewolf here, just lots of clumsily dubbed dialog and several broad cartoonish characters to draw the Brains ire. This movie would be a challenge but I'd like to see them try it. If for nothing else than to hear them riff on the scene where a man in chains attempts to kick a wolf.
1218: Brain from Planet Arous (1957 B&W)
The alien possessed John Agar looks pretty scary with those wild eyes of his. And yet, with dialog that is as badly structured as this, you know the gang would effectively mock it to bits. Plus; when Agar takes an ax and treats the evil brain (with visable strings) like a piñiata, one can't help but howl with laughter.
1219: I-Man (1986 color)
Another failed TV pilot. Scott Bakula stars as a cabbie whose doused in space gas. Suddenly he gains the super heroic power... to heal really fast when injured. Yup that's it, that's his power. He's like Wolverine without the adamantium skeleton & claws and animal like speed and instincts. So basically, he stinks as a super hero!
1220: Invisible Invaders (1959 B&W)
With Short: "Mylar: What's it to You?"
John Carradine blow'd up, he blow'd up real good! This movie would have been an instant classic. Heck, I was shooting off riffs one after the other, I can only imagine what better brains than mine would have done. John Agar stars as manly "Major Jay" in this story about invisible aliens who inhabit the dead in their dastardly attempt to conquer Earth. Some of the best MST moments involve ripping on a Narrator ("Monster A G-Go", "Yucca Flats", "Creeping Terror") and this flick boasts an annoying one. Also, the line "John, shut up!" is as much fun as "Shut up, Iris!"
The short which is all about the durability of Mylar, was going to be part of the CD Rom that was never released. I wrote and asked Barb about it and it seems it's lost!! -Gasp- But since this is my dream, they find it, clean it up and release it to the world.
1221: Santa and the Ice Cream Bunny (1972 Color)
Santa (or was that Tom Waits on a bender?) gets stuck in Florida, where he pretty much just sits around bitching about the heat as several kids try to help free his sled from a few inches of sand. Suddenly, right in the middle of our Santa movie, a film about Thumbelina is shown (The heroine inspects a half dead bird and says... "Perhaps Mr bird is not completely frozen?", and I riffed... "Perhaps thumbelina is not completely baked!") After this hell is over we return to Santa. A guy in a bunny suit drives by (No, his names not Frank. For those hoping another -better- film was going to pop up) and saves the day. Holy crap, I think every brain cell in my skull just died. This film is cruel and darn unusual. Huck Finn and Tom Sawyer pop in for no reason and it's so cheap it looks like someones home movie. In its defense, this is the prefect flick for people who have always dreamed of hearing "Old Man River" played on the kazoo (Paul Robeson forgive them). Special thanks to "ColemanFrancisFan" for lending me this tape
1222: The Cape Canaveral Monsters (1960 B&W)
With Short: "Glenn Wakes Up"
Katherine Victor (Bat Woman) stars as one of two flying alien light balls. The light balls possess a couple of human bodies and attempt to sabotage the space program. Phil Tucker's follow up to Robot Monster is nasty and odd. It might have been intended as a black comedy: The bickering aliens (one of whom has an arm that keeps falling off) certainly display darkly humorous characteristics.
The short: Glenn is a whiny kid who receives a night-time visit from an old guy named "Mr. X", who sits on his bed and tells Glenn how to shape up! Frankly, this guy disturbs me in the same way Mr. B Natural or Michael Jackson does.
1223: Frankenstein's Daughter (1958 B&W)
I'm amazed they never tackled a Richard Cunha (directed) film. Even without Mike, Joel or the Bots, this is a hilarious movie. The makeup is a riot. We've got one monster girl with discolored beaver teeth and eyebrows Frieda Kahlo would envy - And Franks daughter is a man, baby! They put some lipstick on him -uh, her- but he -uh, she- just ends up looking like a reject from the cast of "Some Like It Hot". For that alone I'd riff this flick. But add in a party scene with white bread musical numbers and I'm in stitches. It's all so dumb, but fun. This is a great, GREAT B-Monster movie.
1224: Starlight (1996 Color)
Oh my freakin' Gawd. From the Great White North comes this granola soaked, new age, sci-fi, environmental morality tale. Break out the crystals and watch out for that bunny in the road! It stars Rae Dawn Chong as a good alien, and Willie Nelson as a grandpa who can shoot light beams from his eyes! GAA, Damn you Canada!