James Bond, unofficial releases and beyond
Casino Royale 1967
This unofficial entry featues boatloads of acting talent, 5 directors (topped by John Huston) and a gang of writers that included Billy Wilder, Woody Allen and Ben Hecht, who all combined to make one hell of a mess! It didn't help when they fire Peter Sellers and had to adjust other roles to fill in for his departure.
Royale is a pure 60s sex farce complete with big wacky music so that you know when to laugh (Because frankly, it's impossible to tell at times) – Huston's section at the start is the worst and the stuff with Deborah Kerr is noisy, chaotic and unfunny. It improves as it goes, I got a few chuckles in the scenes between Sellers (A card playing genius who plays a 'fake' Bond) and Ursula "Honey Ryder" Andress as Vesper Lynd.
David Niven (as the real Bond, pulled out of retirement) is always a pro, even with poor material and Orson Welles is quite good as Le Chiffre (He'd have made an outstanding villain in a 'real' 007 movie). Barbara Bouchet (Agent For h.a.r.m.) is Moneypenny and Woody Allen is Jimmy Bond/Dr. Noah (the legends nephew) and there are a ton of recognizable faces (including those from the official series, such as Kronsteen - "From Russia With Love")
The Burt Bacharach song "Look of Love" is nice and the poster is groovy and one of my all time favorites. There are laughs sprinkled here and there and this spoof could be enjoyed as a guilty pleasure. But overall it's an unwieldy, bloated train wreck (with visible strings).
Casino Royale 1954
Barry Nelson is a square headed "Jimmy" Bond; tough, not too elegant but quick with a quip (When a Leiter asks, "Aren't you the fellow who was shot?" Bond responds, "No, I'm the fella who was missed!"). He's also very American, so it's up to Leiter to be British (and be renamed Clarence). Peter Lorre is an odd but effective Le Chiffre. Vesper is gone, melded with Rene' Mathis as she's now an old flame named Valerie Mathis who is also working with the French.
This was featured on the hour long televised series "Climax". It was performed live and there are a few mistakes; actors stumbling over lines, at one point the actress drops Bonds means of escape into a bathtub. The story is very repetitive; we go back and forth far too long on the money/check thing between Le Chiffre and Bond. And it gets pretty tiring having Baccarat explained ad nauseum. The torture scene is thankfully changed, the only clothing 007 removes is his sock, where his toes are broken or cut (we're not show what exactly happens). Oh and Gene Roth, one of Bert I Gordon's regulars plays one of Le Chiffre's thugs.
Royale '54 is an interesting curio but beyond that it's really not very good.
Never Say Never Again
And speaking of bland…. This "unofficial" entry simply isn't a Bond film. From the very start, void of the trademark title sequence and catchy Bond theme "Never Say Never" never comes close to the real deal despite having Sean Connery back in the saddle.
Sean is cool; he can't help himself in that regard. And there are other solid actors, Max Von Sydow is a decent Blofeld and Klaus Maria Brandauer makes for a dangerous and more cultured Largo. But the allies (M, Q, Monneypenny) just don't click and the Bond girls stink. Kim Basinger's never impressed me much and she's a pale, washed out version of the original Domino. Barbara Carrera is even worse and is terribly annoying.
There's a little scene with a video game that's cheap looking but interesting. Cheap looking sums up the entire production. This is based on Thunderball and while the official film was big and thrilling with an explosive finish, the ending here is static and the entire movie's a tepid cup of weak tea. Skip it.
Operation Double 007: Bond and MST3K
The funniest show in televised history was Mystery Science Theater 3000 – The premise? A mad scientist shoots a guy up into space and forces him to watch bad movies. The guy (Joel Robinson and later Mike Nelson) is joined by his robot friends, Tom Servo and Crow. The trio get through the pain by cracking wise (also known as "riffing").
One of many genres they tackled was the spy adventure. Starting with Mighty Jack, a Japanese show about a group of super spies who take on an evil organization lead by a guy who is always seen cradling a white cat (Hmm, that sounds familiar...). These films of course inspired many a Bondian riff. In the ultra dull Agent For h.a.r.m." the guys often burst into the dramatic 007 theme –"BA DA - DA DA!"- In a vain attempt to spice things up.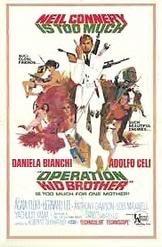 The episode that holds the most interest for Bond fans is the knock off titled Operation Double 007 (Aka, "Operation Kid Brother", aka,"Ok Connery"). This film stars Lois Maxwell (Moneypenny), Bernard Lee (M), Thunderball's Adolpho Celi as the villain and Anthony Dawson (Professor Dent in Dr. No and Blofeld's hands in From Russia With Love). But at the top of the heap is Sean's little brother Neil as the title character.
Though not named, Neil plays a plastic surgeon -brother to a certain famous spy- who is recruited by Lee and Maxwell to help foil an evil scheme. Neil's special power is his ability to lip read and hypnotize anyone at any time. This is way cool, but when you think of it, it would render 007 nigh omnipotent. All he'd have to do is work his mojo on the baddies and whala, stories all tied up within 10 minutes.
Operation is not a great film by any stretch of the imagination but it has a certain charm and I was more entertained by it than by the films reviewed above. And the comedy provided by the MST3K crew is stellar. Knowing nods to the franchise are hilarious and in one skit the trio chart the careers of the brother's Connery. In another simple but uproarious bit, Joel Robinson imitates Celi's character.
The MST3K spy catalog includes… "Mighty Jack", "Secret Agent Super Dragon", "Codename: Diamondhead", "Danger!! Death Ray", "Riding With Death" and "Agent for h.a.a.r.m.". For an added bonus checked out Master Ninja II which has a guest starring bit by George Lazenby and Danger Diabolik, with Adolpho Celi
Also: MST3K's Mike Nelson was joined by cast mate Kevin Murphy, on a Rifftrax comedy track added to 2006 Casino Royale. It's pretty funny, though the movies sober moments don't lend themselves well to a riffing. I found it difficult to laugh when I'm all choked up over Vesper's death for example. Still if you got a sense of humor and don't get in a tizzy when someone pokes fun at something you enjoy, these all make for a sidesplitting listen.
Home
Bond Lists